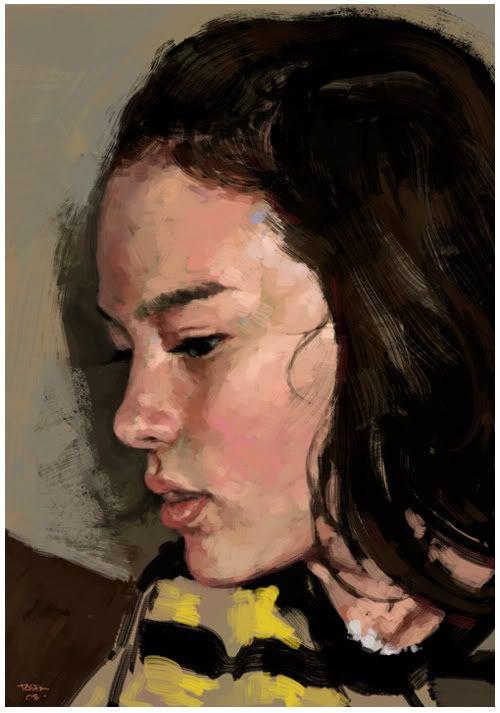 When Ed Tadem agreed to do an interview with Rococo Flow, I was beyond delighted. For many years, he has always been one of those artists whose work brings something new and gratifying. He is someone who is always trying to push his own boundaries and never ceases to want to improve artistically. This 26 year old was born in the Philippines and at the age of 4 his family moved to Cerritos, CA where he grew up. Later, he would eventually go to California State University, Long Beach before dropping out.

During the interview he talks about his reasons for leaving school and his experiences before landing his first major comics gig. Not to mention, he also goes into great detail about his work habits and his process in creating pages for the '76 comic. The interview has been divided into two parts and every word that Ed has to say is worth reading. He is truly a talented artist whose work I hope to see lots more of in the future.

Rococo Flow: So what were your reasons for dropping out of school?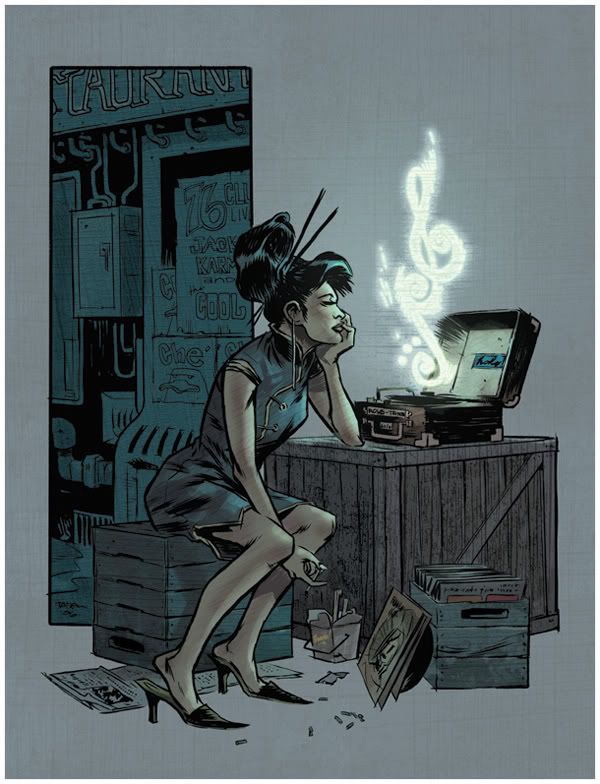 Ed: There were a few. Walking around campus I'd always hear kids talking about just wanting to get their degree and get out of there. But I mean, aren't you supposed to be in school to learn? The degree is useless if you haven't learned anything. I was sitting in some biology class and I realized that I wasn't learning anything. At some pointed it stopped being about learning art and just in classes I was told to take so I could get my degree.

Rococo Flow: So what did you after you left school?

Ed: I got a job at an architectural illustration firm and figured I could work on stuff at night and weekends. Also, sometimes you learn more once you're out of school, just by doing work.

Rococo Flow: How did that set up work out? Do you still work at the firm or are you just working on your own stuff?

Ed: Well, after about a year or so of that, and saving up money - I forgot about that. That was part of the plan, live cheap, save enough money to freelance. Anyway, after about a year or so, I had maybe half the amount of savings I needed and a friend at Upper Deck contacted me about doing some artwork for the Pirates of the Caribbean card game. Except, they needed a ton of art in a month's time, so I took a month off work, and decided to just give my two weeks notice when I got back.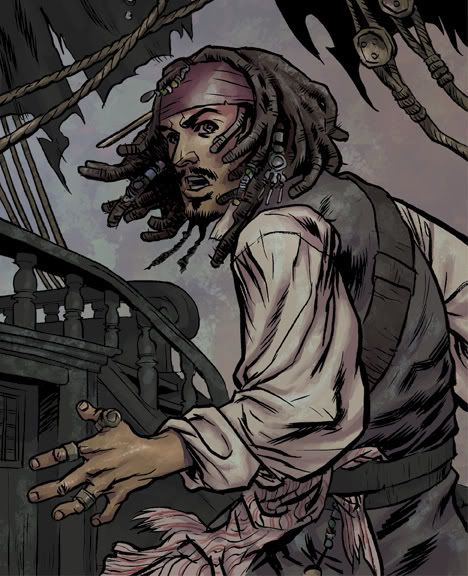 The money from that job basically set me up to freelance. As for the working on stuff at night and weekends - I found out pretty quick that having a 9-5 desk job kind of tires you out. It was kind of the same feeling as school, I'd look around and everyone there had come out of art school or something and wanted to do other things. We all had the same idea of working after hours, but most of those people had been and probably would be stuck there for years. I kind of wish I grew up back in the day of apprenticeship.

Rococo Flow: Did you ever have a mentor?

Ed: Yeah actually, there's a whole story/entry on this in my livejournal. (RF: Which you can find here). Back in high school I met Eric Canete at San Diego Comic Con '98 and it turned out we lived in the same town. He kind of showed me the ropes a bit and took me under his wing.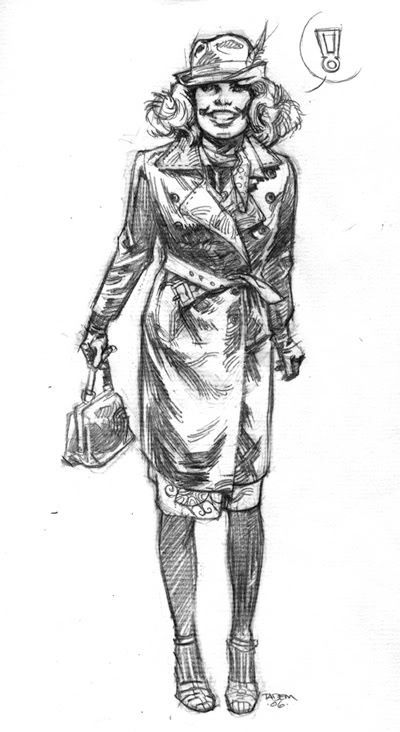 Rococo Flow: So you just knew you were going to be an artist? Was there anything that initially sparked that interest?

Ed: Haha, actually it was those Marvel trading cards, series 1. Before I even had comics, I had Marvel trading cards. I didn't even know what comics were but I soon found out! And then I started drawing. Although, as a kid you still kind of think you'll do other things too, like being a baseball player or something and then as a teenager I thought I was going to be a rock star. At 13 I was actually pretty split between guitar and art and I decided I was better at art.

Rococo Flow: *Laughs* Who have been your strongest influences throughout the years? Obviously there's Eric Canete whom you mentioned earlier.

Ed: Yeah, Eric kind of turned me onto a whole world of art and comics I didn't know existed. At the time I was just a kid and all my exposure came from Wizard magazine so I was into Joe Mad and Jim Lee and all the typical stuff. Eric's friends Byron Penaranda and Sam Liu, both of whom are animation industry veterans were a pretty big influence at that point too and of course as I grew up and consumed more art, I have a ton of influences now. I think the worst thing an artist can do is try to be a clone of one or even two or three artists. There's a whole world not just of artists but of nature and other media even that should inform your vision.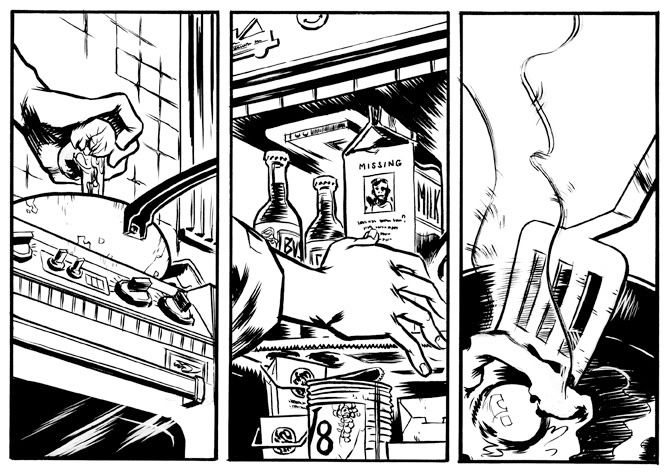 But to answer your question, comics-wise my main influences are guys like Tommy Lee Edwards and John Paul Leon. There's also Jorge Zaffino, Andrew Robinson, and I discovered a guy by accident Domingo Mandrafina, I think he's Argentine, who knocks my socks off. I love stuff from all disciplines. I've always loved Rodin's figures. Egon Schiele, Klimt and that stuff and as far as illustrators, Dean Cornwell is a painter I adore. I'm doing covers for a book I'm drawing called '76, and I'm painting them digitally and looking at a lot of Robert McGinnis for that stuff. I dunno. Like most artists, I think the list could be endless. There's guys who I was friends with online who are now making names for themselves like Chris Brunner and Jason Latour, and definitely I think I've learned a few tricks from them too. Sorry, that's enough of that. =) Go on.

Rococo Flow: *Laughs* So you have all these influences, would be able to describe your own style?

Ed: Describe how?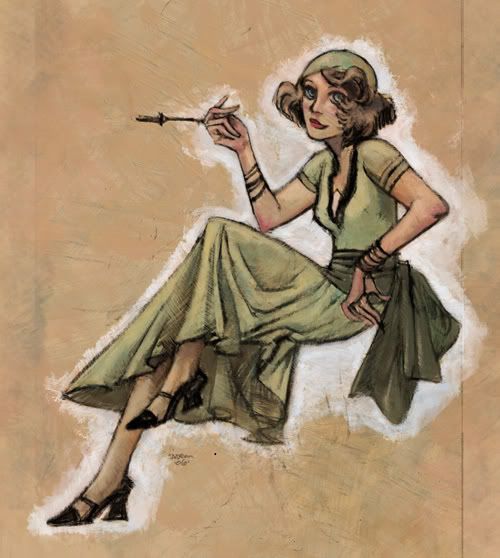 Rococo Flow: If you could give a couple of words to describe the type of art you produce, could you pinpoint it? Is it dark, bright?

Ed: Haha well, my friends always joke about me being emo. Let's call it retro emo? I like drawing characters who look like they came from a decade or more ago

Rococo Flow: Yeah, I love that! I wanted to ask what your favorite era to draw is?

Ed: I think anything between the '40s and '70s is pretty awesome. When I had cable, Turner Classic Movies was always my favorite channel.



Rococo Flow: How do you go about developing the ideas that you have for your stories and comics?

Ed: Well lately I've been drawing other people's stories but typically I'll have an idea and it'll just be sort of images or specific scenes without a story and I'll scribble those down and build a story out of that. I did a short story about a boy and a girl in a tree. and I pretty much just had an image of the girl up in the tree by herself and an image of them together silhouetted against a sunset and it kind of developed into an allegory of relationships, specifically every relationship I'd ever been in.

Ed: Or were you asking more about the process from script to final art?

Rococo Flow: I was interested in both actually.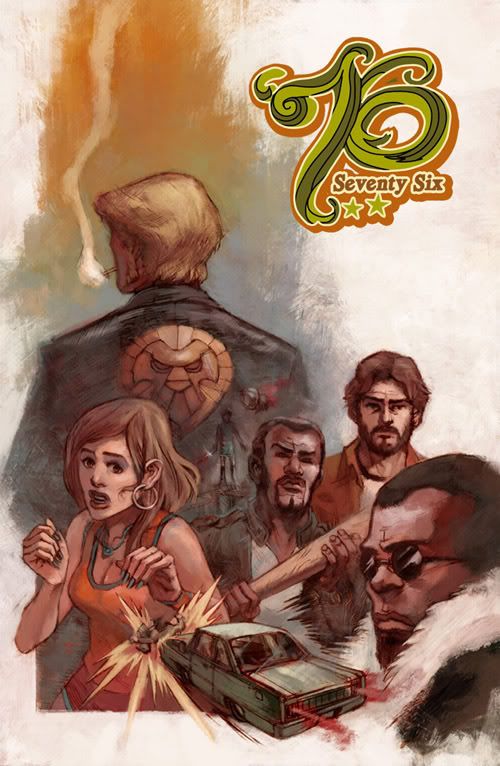 Ed: Well, I'll talk about the process for that '76 comic I mentioned earlier. My writer on that is B.Clay Moore and I couldn't have asked for a better writer for my first major comics work. I get his scripts and print them out with 1" margins and I make notes right on the prints, drawing little 2" high mini pages and try to figure out the panel flow. At that point I almost want the panels to be able to tell the story themselves with the beats that they set up, long panels, tall panels, etc.

Also, if part of the script immediately suggests a camera angle or shot, I scribble that too. I go through the whole script that way, then go back and look at any new characters or settings that I haven't drawn before and do fairly rough designs for them, just enough so Clay can get an idea of what I'm going to do. If I need to reference something, I've stocked up (thanks to eBay) on various 1976 clothing, Sears catalogues, and books with photos of New York street scenes from 1976 (our story takes place in NY of that year).

After I've designed everything, I do 1/3ish size page layouts. I have a template format that I borrowed from Andrew Robinson and Chris Brunner that fits 4 to a letter-size page. I try to do those layouts as tight as I can, and make sure most of the perspective, construction and composition issues are taken care of early at this stage. I figured out pretty quick that being lazy in the early stages just gives you more headaches later on.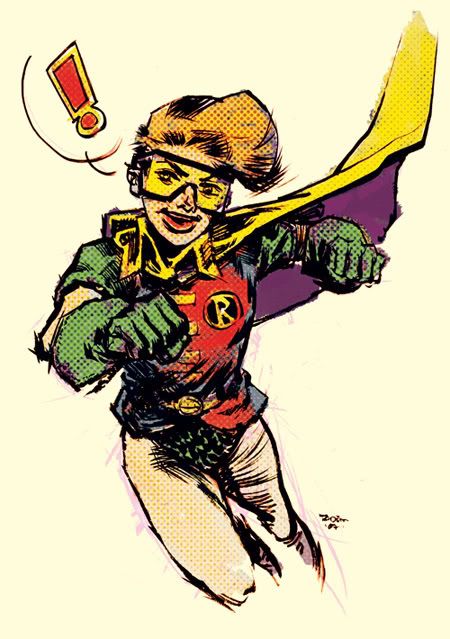 Once the layouts are done, I scan them into Photoshop and blow them up onto an 11x17 template, and convert the lines to a very light blue. I then print out the whole thing onto my final board. (Another trick I learned from Chris). Then I ink all the panel borders and pencil with a blue Col-Erase pencil. I scan those in to show Clay, as I also forgot to mention I do with the layouts. And thennnn…I get to ink the pages and and scan. Clay then letters them and gets them ready for press.

Rococo Flow: So you're actually able to print out the 11 x 17 size onto your board? Do you have a special sort of printer?

Ed: Yeah, just a regular large-format printer will work, something that does 13x19. I had to do a few tests to get it to print right in the middle where I needed them and I screwed up a few boards, but it's worth it in the end. =)

[Continued in Pt. 2]


Click Here to Read Full Article...